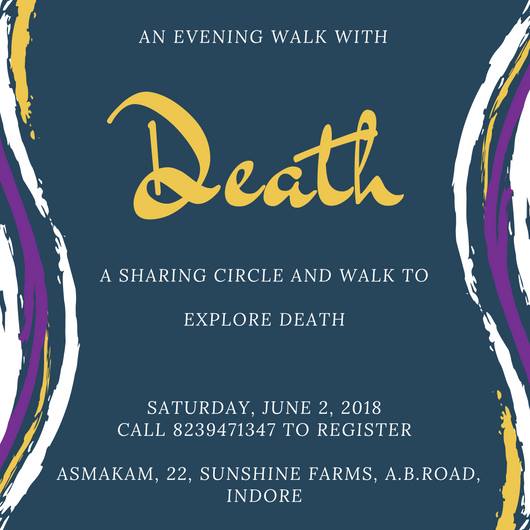 13. An Evening Walk with Death by Rahul Hasija

Asmakam, 22 Sunshine Farms, A.B. Road, Indore (M.P.)
"No one wants to die. Even people who want to go to heaven don't want to die to get there. And yet death is the destination we all share. No one has ever escaped it. And that is as it should be, because Death is very likely the single best invention of Life. It is Life's change agent. It clears out the old to make way for the new" - Steve Jobs

Death is indeed a subject of curiosity, anxiety, fear, questions – a humbling force that isn't even easy to talk about. The workshop 'An Evening walk with Death' intends to open up a space to talk about this change agent. It is also an exploration of various dimensions of death and not just the physical part of it.

What does the workshop offer? 
"Here in the forest, dark and deep, I offer you, eternal sleep"
Come join us for an exploration within..
---