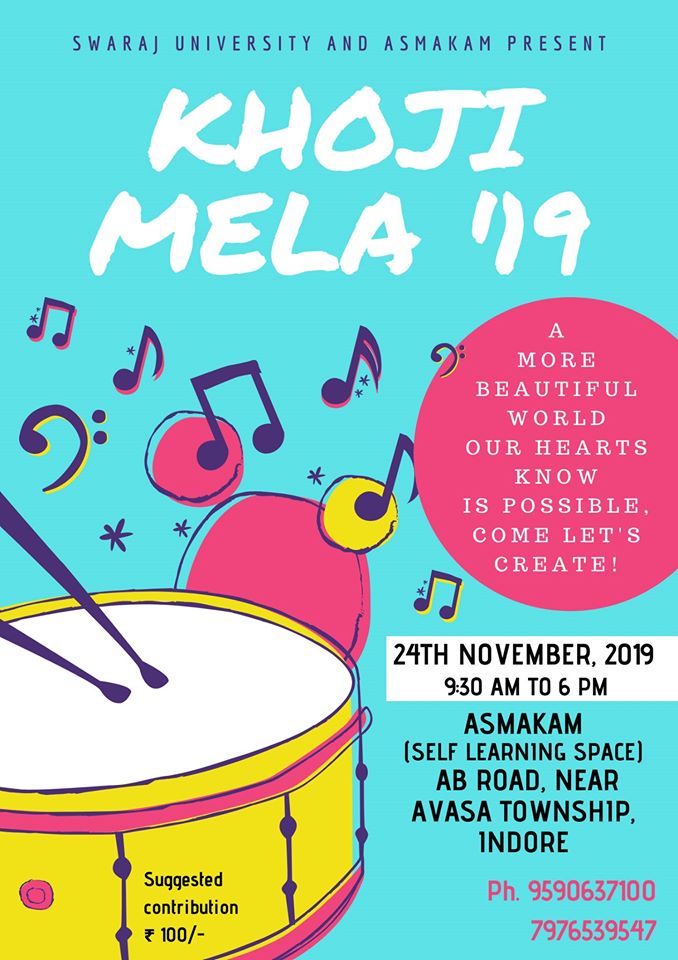 Khoji Mela

Asmakam, 22 Sunshine Farms, A.B. Road, Indore (M.P.)
आओजी, पधारो Khoji Mela '19.
A group of 15 young adults from Swaraj University, Udaipur, Rajasthan
are here in Indore to create
A DAY OF WONDER AND NEWNESS AND CREATE MAGIC TOGETHER.


Let's get together and learn knitting, photography, macrame!
Let's paint walls and ourselves; dance and sing and play!
Let's have conversations on health and experiment with making our own tooth powder, bioenzymes and other cleansing products!
Come in for participatory theatre and a lunch with all locale cuisines and new neighbours!

Come, bring your kids, दादा- दादी, दोस्त, मम्मी-पापा, चाचा-चाची, मामा-मामी and
let's have a potluck lunch to know your fellow indorees and interact with new people and new food!
Bring in lunch to fill your tummies as well as your neighbours!
Let's get together, share, eat, interact.

Let's open our hearts,minds, relations, discover newness and build a community.
---