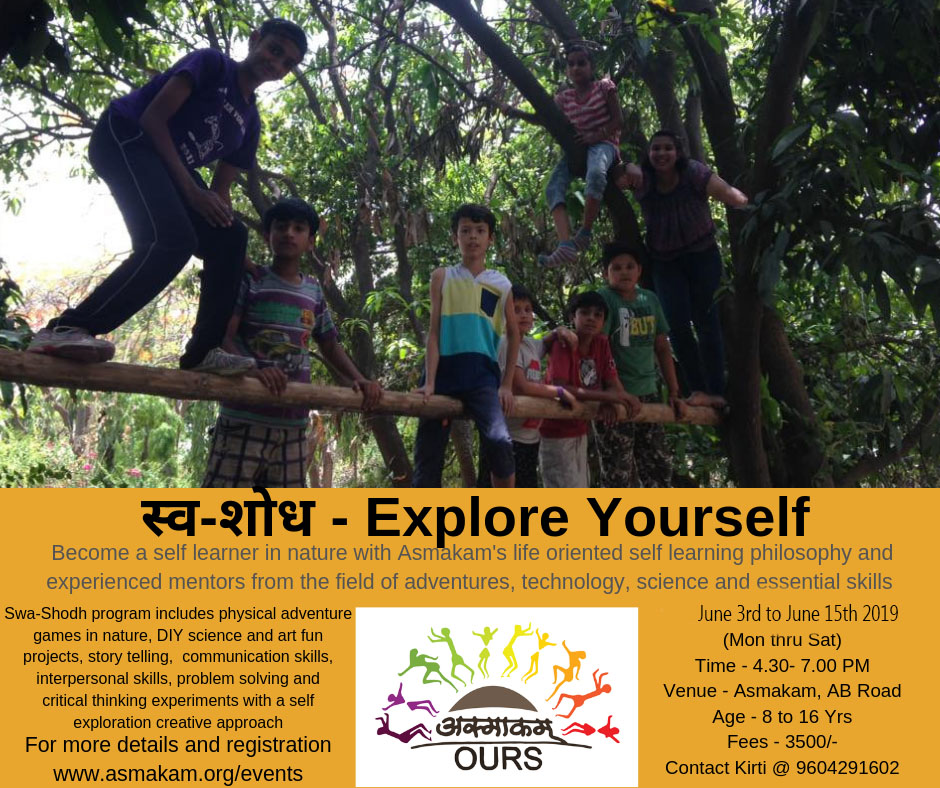 स्व-शोध - Explore Yourself

Asmakam, 22 Sunshine Farms, A.B. Road, Indore (M.P.)
Become a self learner in nature with Asmakam's life oriented self learning philosophy and experienced mentors from the field of adventures, technology, science and essential skills. 
watch out this video to know more - 
https://youtu.be/6iVtWQSXC0Y
Swa-Shodh program includes physical adventure games in nature, DIY science and art fun projects, story telling, communication skills, interpersonal skills, problem solving and critical thinking experiments with a self exploration creative approach. Mentors include IIT Bombay alumni. Engineering college professor, Dance movement therepist and Physical education experts.
Pre registration mandatory by filling registration form and paying 500/- advance confirmation payment )adjusted towards 3500/-) For siblings - total charges are 6000/- (for 2 siblings)
Dates- June 3rd- June 15th
(Mon thru Sat)
Time - 4.30- 7.00 PM
Venue - Asmakam, AB Road
Age - 8 to 16 Yrs
Fees - 3500/-
Contact Kirti @ 9604291602
---